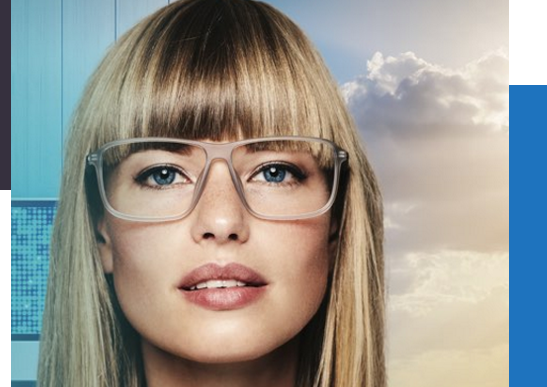 VisionPlus Anti-Reflection Coatings
Mirage – Scratch-resistant, Hydrophobic coating with a 1yr warranty, reduces up to 99% of those distracting reflections during the day, and especially driving at night.
Mirage HD – Premium hydrophobic/oleophobic coating, helps minimize dust and dirt build-up, making this our easiest to clean coating with a 2yr warranty.
We are all aware the UV rays can be harmful to your skin but have you ever considered what they do to your eyes? UV rays can seriously damage your vision. At Vision Plus, all our stock single vision lenses come with a Mirage HD coating at no additional cost. Mirage HD coatings give your eyes the best available protection on a clear lens against harmful UV rays. UV rays are a significant hazard for your eyes as well as the skin around your eyes, causing: accelerated skin aging (wrinkles), eye diseases (cataracts), and risks of cancer (90% of skin cancers occur on the face and neck, of which 5 to 10% are on the eyelids). Our lenses are coated on both sides to protect from UV damage from the front of the lens and reflected UV damage off the back of the lens.
UV rays impact us 365 days a year. Forty percent of UV exposure occurs when not in full sunlight (all year long, even in cloudy conditions, and at home) and over 90% of UV rays may pass through cloud cover. Your lenses must respect two criteria to reach the minimum level of protection. They must be able to block at least 20% of harmful blue light while also offering a minimum UV protection of E-SPF 25 protection. The short-term benefits for this are clear: reduced digital eyestrain paired with overall well-being, which includes regulation of sleep/wake cycles, improved mood, and cognitive performances. Mirage HD coating also offers long-term protection, combats premature aging of the eyes (wrinkles), and helps protect against eye diseases such as cataracts and age-related macular degeneration.
Contact Us
Vision Plus - Corporate Office
2520 James St.
Bellingham, WA
Protect Your Lens
Mirage HD coating acts as a shield, protecting against scratches, glare, smudges, dust, and water to allow for enduring clarity of vision.
Resists Scratches
Makes your lenses more resistant to scratches and shocks for long-lasting visual performance.
Reduces glare
For clearer vision and to let people see the real you, not just that annoying glare from your lenses!
Resists Smudges
Provides superior resistance to oils, water spots and finger smudges for better cleanability.
Repels Dust
Acts like a dryer sheet and prevents static cling to keep dust off your lenses for optimal vision.
Repels Water Drops
Water drops fall off the lenses without leaving any markings or spots that could impair vision.
Our Lens Coatings Provide